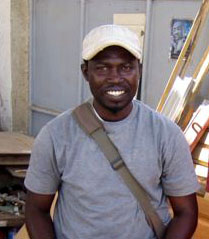 Henri SAGNA (biographie en français)
Né à Dakar en 1973, Henri Sagna est diplômé de l'Ecole Nationale des Arts de Dakar, section Environnement (architecte d'intérieur et d'extérieur, aménagement urbain). Il a participé à plusieurs Dak'Art Off avant d'être lauréat en 2005 du prix du Salon National des Artistes Plasticiens du Sénégal.
A l'international, Henri Sagna  a à son actif plusieurs expositions dont les plus notables sont: « Sénégal Contemporain » au Musée Dapper de Paris en 2006, la 3ème édition de « Sculpture Urbaine » de l'Artefact à Montréal en 2007, « Détour » Moleskine au Musée Der Dinge de Berlin en 2008 et le festival panafricain d'Alger en 2009.
Artiste engagé, Sagna travaille particulièrement  sur les installations.
Henri SAGNA (biography in english)
Born in Dakar in 1973, Henri Sagna graduated from the National School of Arts in Dakar, Environment section (interior designer and outdoor, urban development). He has participated in several Dak'Art Off before winning in 2005 the price of the National Salon of Plastic Artists of Senegal.
Internationally, Henri Sagna has to his credit several exhibitions of which the most notable are: « Contemporary Senegal » at the Dapper Museum in Paris in 2006, the 3rd edition of « Urban Sculpture » Artifact in Montreal in 2007, « Detour « Moleskine Der Dinge Museum in Berlin in 2008 and the Pan-African Festival of Algiers in 2009.
Activist, Sagna particularly working on installations.
Warning
: preg_match(): Compilation failed: invalid range in character class at offset 12 in
/var/www/vhosts/biennaledakar.org/httpdocs/2016/wp-content/plugins/js_composer/include/classes/shortcodes/vc-basic-grid.php
on line
152