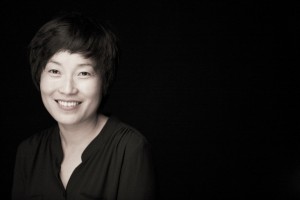 Hybride/ Métamorphose
Le conflit entre des idéologies antagonistes, les affaires internationales complexes et la mondialisation du capital ont empêché les pays asiatiques de rester des nations agricoles reposant sur le confucianisme ou le bouddhisme. L'Orient, envisagé en tant que berceau de populations exotiques et innocentes, n'est qu'un fantasme stéréotypé. En réalité, ces pays cherchent simplement à vivre dans cette ère mondialisée, recherchant des stratégies de survie reposant sur leurs positions géographiques et leurs statuts économiques. Les artistes asiatiques ne peuvent jamais se libérer de cette réalité.
Avec :
Anida Yoeu Ali (Cambodge)
Noh Suntag (Corée du Sud)
Pradeep Thalawatta (Sri Lanka)
Phan Quang (Vietnam)
Wang Qingsong (Chine)
Co-fondatrice et co-directrice du Seoul Lunar Photo, Sujong Song est une commissaire d'exposition basée à Séoul qui travaille dans tous les aspects de la photographie, des publications aux expositions, et l'organisation de manifestations. Jusqu'en 2014, elle faisait partie du comité de pilotage de la Biennale Daegu Photo. Elle fait aussi partie du comité d'organisation du programme de bourses Korea Photographer mis en œuvre par  la branche culturelle de KT&G, Sagsang Madang.
Sujong Song a travaillé pour des émissions de télévision, en aidant à créer des expositions pour la chaîne nationale KBS et la télévision de langue anglaise ARirang.
Elle a fait partie des comités du Angkor Photo Festival et le Prix de photographie Stop TB de l'organisation World Health. Elle a organisé en 2012 l'exposition Mario Giacomelli au Musée de la Photographie de Seoul, « Cinq points de vue de Corée » à la Noorderlicht Gallery en 2014 et « The Map of Daily Life » au Musée de Lishui en 2015, parmi de nombreuses autres expositions. Elle était membre du jury du World Press Photo, POYi, Flash Forward, parmi de nombreux prix et elle est nominatrice de plusieurs prix tels que le Prix Pictet et les masterclass Joop Swart. Sujong Song écrit actuellement une colonne sur la photographie dans le Quotidien Kyunghyang Shinmun, et fut la rédactrice en chef de GEO-Corée.